The National BDPA Information Technology (IT) Showcase, collaborating with local chapters, allows college and high school students from educational institutions across the United States to present advanced computing and technical topics. Students demonstrate research knowledge to an audience of corporate representatives, IT professionals and fellow students.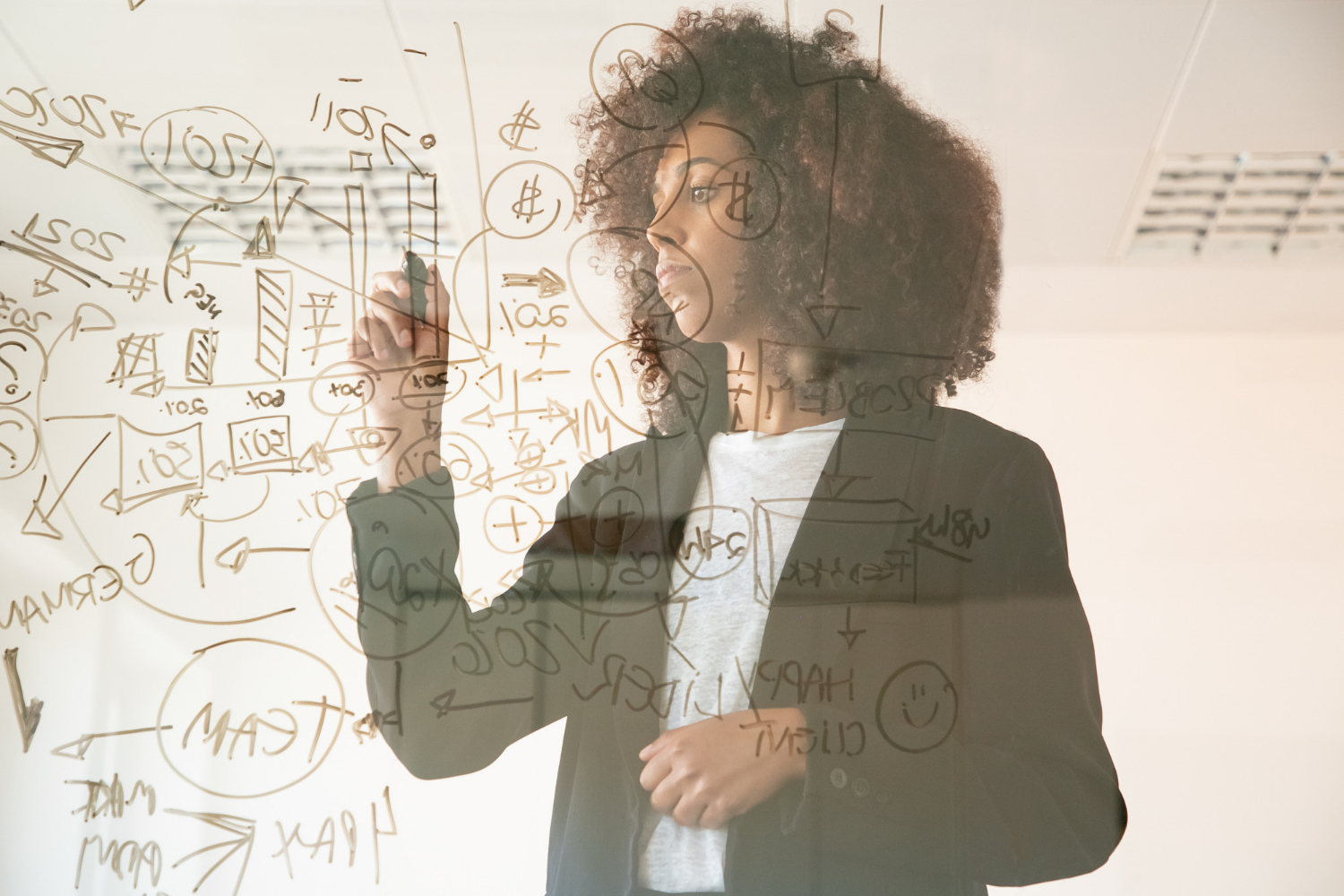 BDPA Motto: "Advancing Careers From The Classroom To The Boardroom."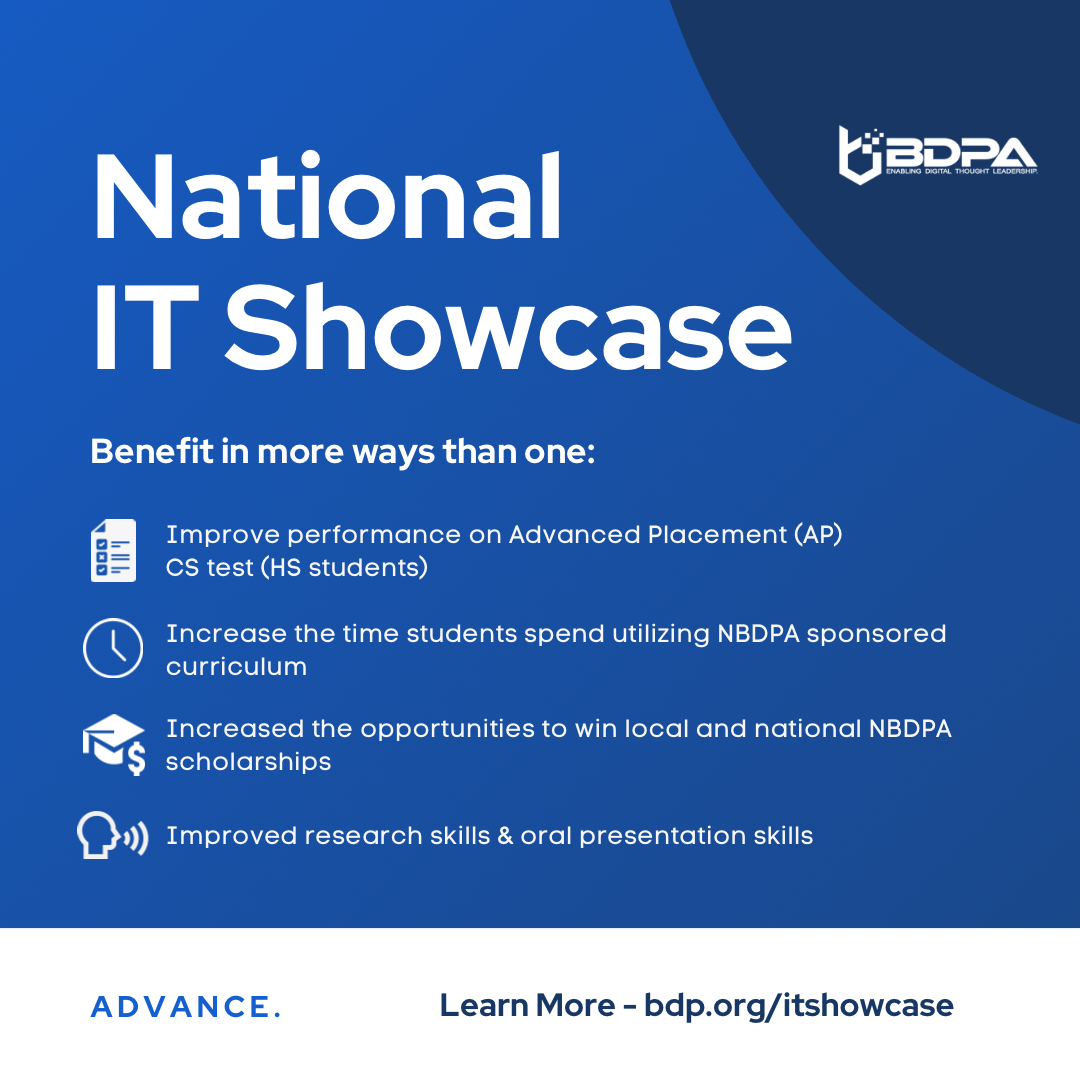 These are potential benefits that students can expect from participation:
Improve performance on Advanced Placement (AP) CS test (HS students)

Increase the time students spend utilizing NBDPA sponsored curriculum

Improved research skills

Improved oral presentation skills

Access to corporate decision-makers and internship opportunities

Access to the NBDPA Career Fair

Increased the opportunities to win local and national NBDPA scholarships

Increased interest and commitment to a career in information technology

Opportunities to support the NBDPA mission and vision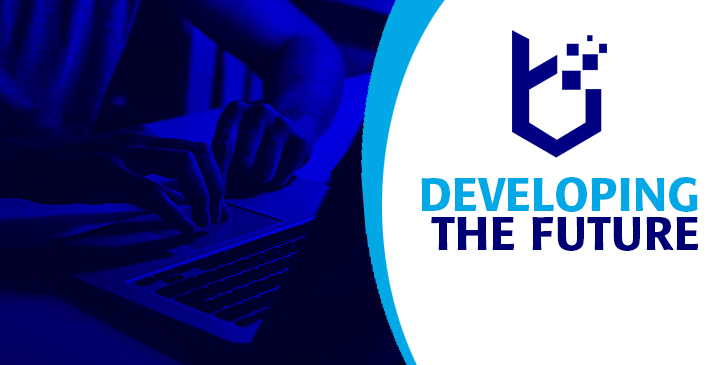 Students participate in the 2-day event held during the annual National BDPA Technology Conference, August 12 – 14, 2021. The focus of this virtual event includes, but is not limited to, intelligent technologies (i.e., smart toys, machine learning, and genetic algorithms, etc.), wearable computing technologies, web technologies, mobile technologies, parallel computing technologies, cybersecurity, computing curricula, business intelligence, etc.
Research projects (presentations, PowerPoint and poster board) are judged by a panel of judges in two categories: college and high school. Scholarships are earned in each category for 1st, 2nd, and 3rd place presented at the conference award ceremony/gala. Each participant is recognized with a Certificate of Appreciation.
Click here to view an example of an IT Showcase Proceedings, event previously sponsored by Lilly and
Johnson & Johnson.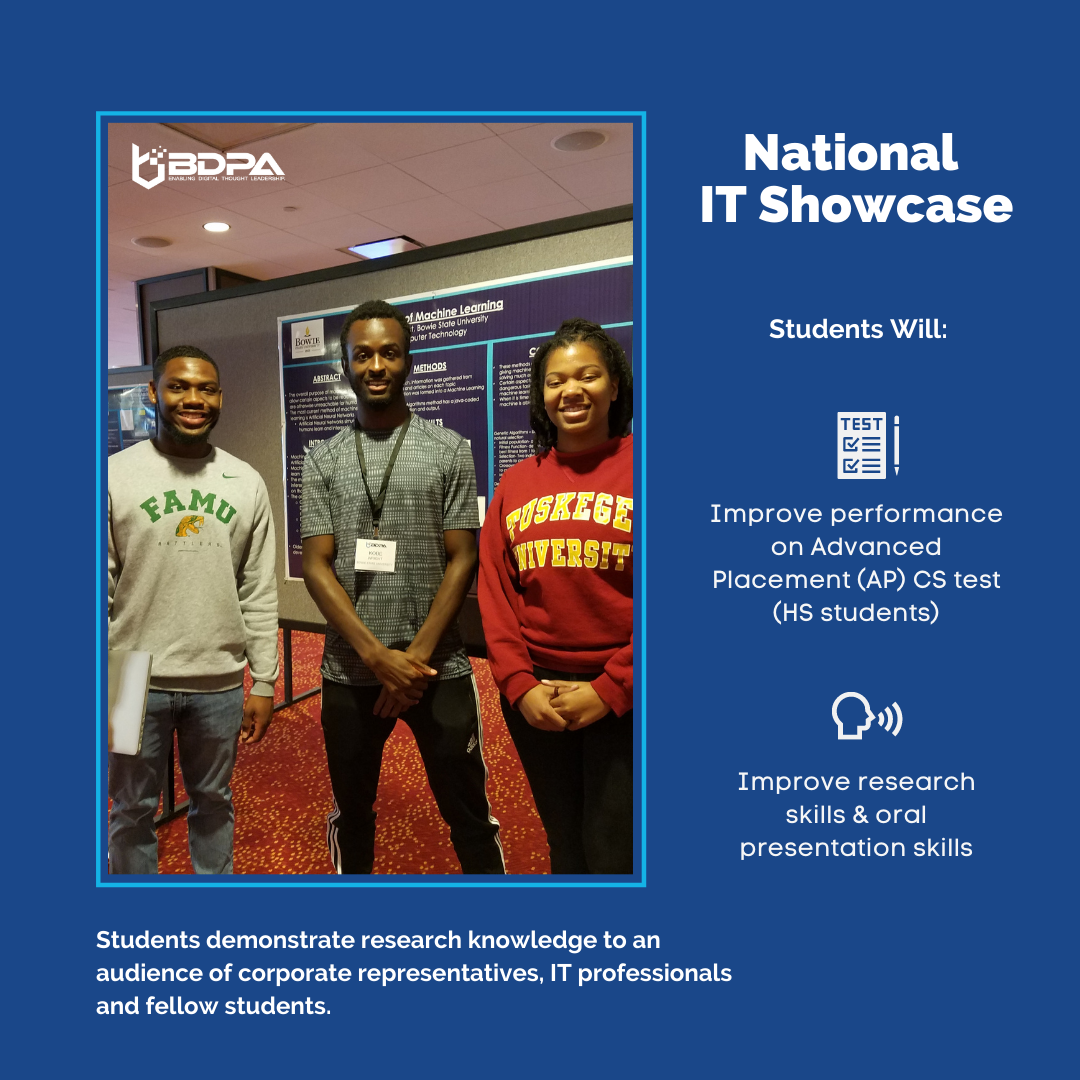 The IT Showcase is a competitive process.  In order to participate in the IT Showcase, students must meet criteria and requirements below.  Students will complete the interest online form including research topic for consideration to participate in the program.
GPA Minimum: high school students currently in 9

th

grade thru 12

th

grade and college freshman thru senior year with minimum 2.5 grade average

Contact the local chapter to express interest and support to participate in the program

Complete the online form including research topic
Submit research paper (8 page minimum/maximum-single space) per due date

Create a powerpoint presentation based on the paper (10-15 min. duration) per due date

Create a powerpoint poster board presentation (3ftx4ft) per due date

Provide headshot photo of student per due date
The IT Showcase National team makes the final recommendation and selection of students based on active research participation and quality of final papers completed per deadline.
| | |
| --- | --- |
| CALL FOR PAPERS | Due Dates |
| First Call for Papers | April 25, 2021 |
| Second Call for Papers | May 23, 2021 |
| Final Call for Papers | June 20, 2021 |
| PowerPoint Presentations and Posters | July 18, 2021 |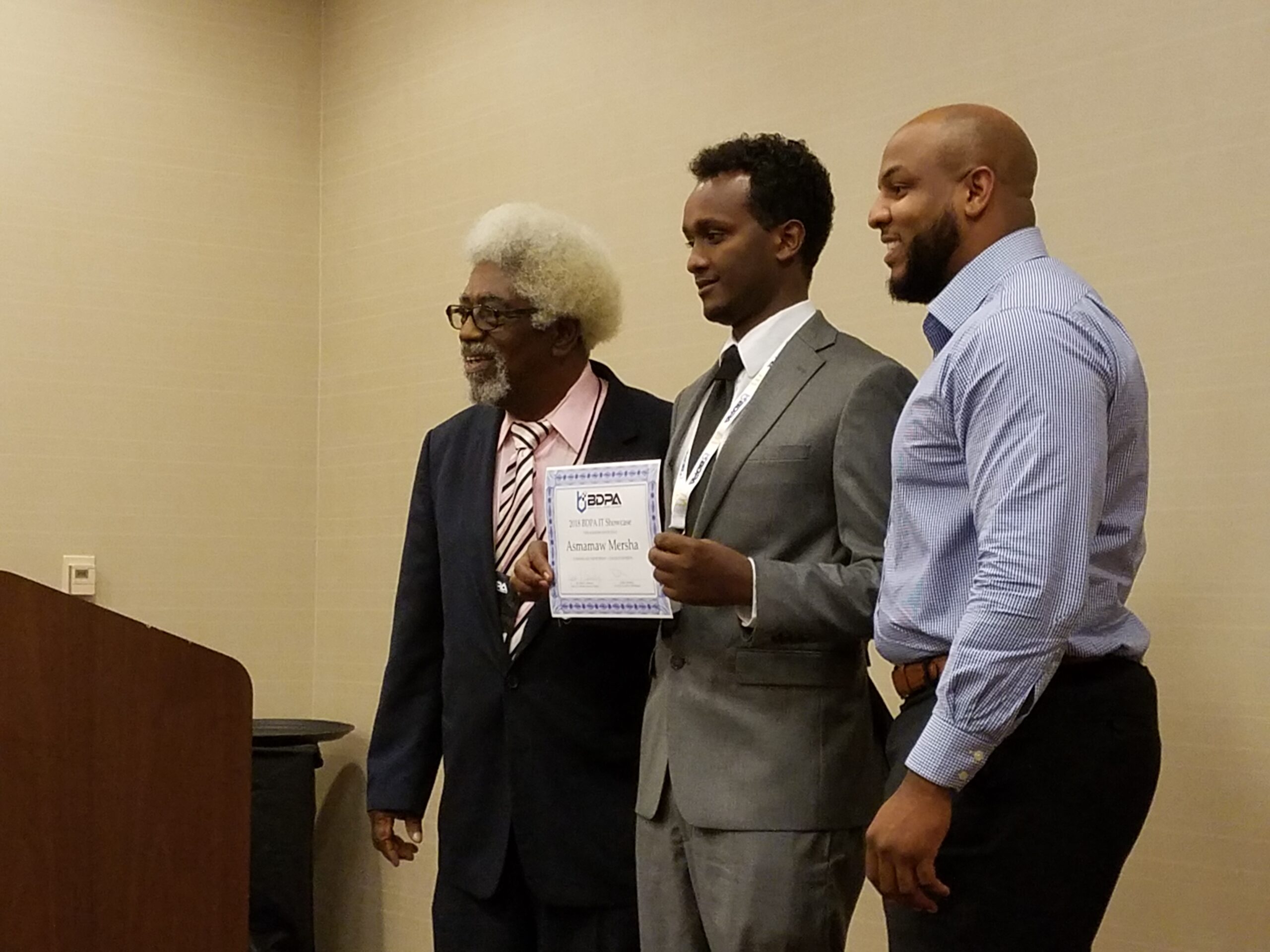 We are actively looking for sponsors for the National IT Showcase. Becoming a sponsor will give your organization early access to our talented BDPA students and an avenue for your diversity and community outreach commitments. When you offer scholarship funds for our winners, we'll give you a seat at the judging table and the opportunity to interview any of our high school and college students for internship and full-time positions.
If your organization is interested in sponsoring the National IT showcase, please contact itshowcase@bdpa.org
Interest in Sponsoring the BDPA IT Showcase
Be part of a national movement and make a difference in the lives of African American information technology professionals as we work together to create the changes needed for diverse work environments and supportive communities. So the next time someone asks, Where are the Blacks in Information Technology? Where are the Blacks In Technology? Where are Information Technology Thought Leaders? Where are the Blacks In STEM? Where are the Black Digital Leaders of the future? Tell them they are all in BDPA!